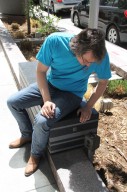 Walczak & Heiss is an interactive civic-art design collaborative. We have recently completed three major public artworks, for a streetscape in Denver, Co. and for a recreation center in Stapleton, Co.
Marek Walczak & Wes Heiss offer a wide range of experience. We were both trained as architects and now have extensive solo exhibition records as artists.
Marek Walczak has an international reputation in architecture, public artwork and new media with pieces in the permanent collections of the MoMA and the Walker Art Center in Minneapolis, MN amongst others.
Wesley Heiss is an artist and Assistant Professor of Industrial Design with substantial experience in animation, computer-aided design/manufacturing and interactive sculpture.
Our backgrounds in architecture combined with 'in-house' design & build skills have enabled us to easily coordinate a wide range of resources. We finish projects on time and on budget while our small size gives us a great deal of flexibility in adapting to the needs at hand.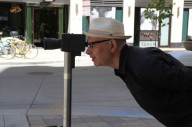 Our work uses a range of technologies, from high-tech to dead-tech, that are carefully applied based on the needs and challenges of each project. We have been collaborating since 2007 and have completed commissions with budgets ranging up to $1,000,000.
Download our resume_here.